1. VIPERA VIDEO OUT NOW
We shot a wonderful video to our sexy pop-bastard "Vipera". Shot and cut by Tobias Schütze of Analogsoul-Fame in a wonderful poolhouse in Jena it should give you just the right vibe to get excited for our EP 'DEATH OF A HYDRA' and the upcoming shows.
2. DEATH OF A HYDRA EP COMING MAY 22

Our new 3-track-EP will be released on Friday, May 22. Preorder digitally right here: http://bit.ly/DeathOfAHydra (Instant-Download: Vipera)

3. UPCOMING TOUR STARTS NOW

The new Captain Capa three-piece is going up on tour on Thursday, May 21. Get your tickets now if you wanna roll with us. We sure do.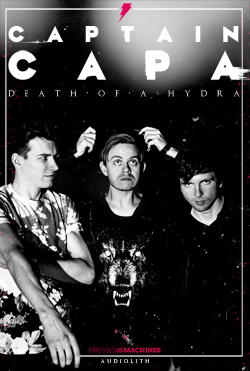 CAPTAIN CAPA ON TOUR:
02.05.2015 Köln - Gebäude 9 (Tickets)
21.05.2015 Erfurt - ETC (Centrum) (Tickets)
22.05.2015 Berlin - Badehaus (Tickets)
28.05.2015 Leipzig - Täubchenthal (Tickets)
29.05.2015 Hamburg - Molotow (Tickets)
30.05.2015 Flensburg - Volksbad (Tickets)
04.06.2015 Frankfurt - Elfer (Tickets)
05.06.2015 Prag - Kokpit Kafé
06.06.2015 Annaberg-Buchholz - Alte Brauerei
FOLLOW & MEET US HERE: